Eugendorf
meets Sightseeing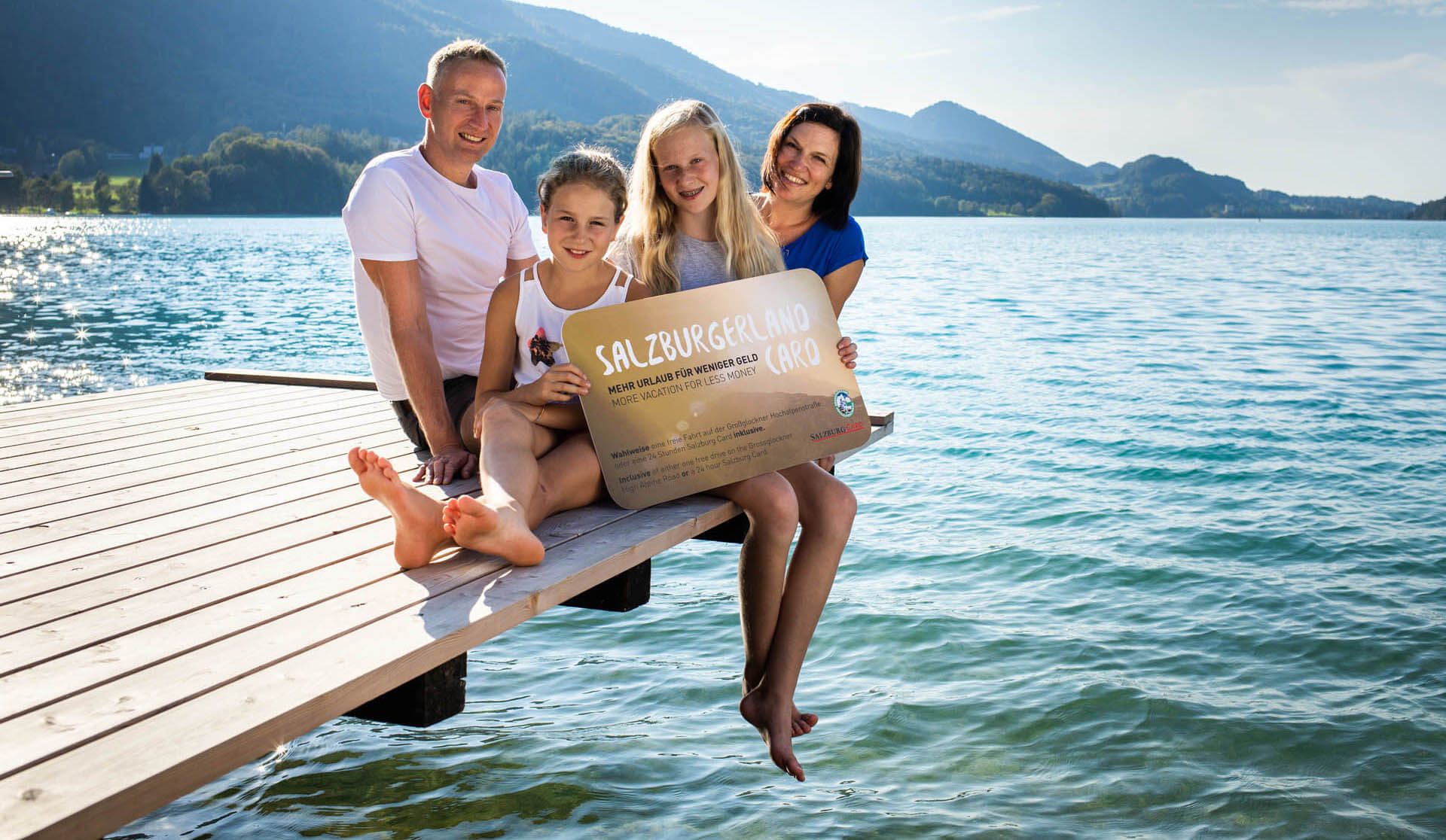 © SLT / Michael Groessinger Fotografie
The many benefits of the SalzburgerLand Card
Just like the Salzburg Card for the city itself, the SalzburgerLand Card offers numerous benefits in the surrounding region. Whether the Open-Air Museum with its historic buildings, Burg Hohenwerfen with its spectacular bird-of-prey shows, or the revitalizing torrents of Krimml Waterfalls: The SalzburgerLand Card brings everything together under one umbrella. Around 190 attractions in Salzburger Land are just waiting to be discovered. The season of the card begins in May and ends in October.
Let the summer begin
Thanks to the SalzburgerLand Card, you will get to know Salzburg province in all its facets, of which there are many. From sport out in nature to mines and museums, along with castles, wildlife parks and, of course, Salzburg City. Here are some of the highlights:
Visit lakes and pools: free admission to a wide selection of outdoor pools and lakeside swimming beaches (Fuschlsee and Mattsee are very near, for example) as well as spa resorts.
Explore castles and palaces: Schloss Goldegg as well as the castles in Hohenwerfen and Mauterndorf are all great places to visit.
Investigate museums: including the Salzburg Open-Air Museum, a variety of theme museums dedicated to traditional regional craftsmanship, along with the national sport of Austrians, skiing.
Probe deep inside historic mines: in search of the rich natural resources beneath the mountains of Salzburger Land.
Experience pure nature: from the waterfalls in Golling and Krimml to the Hohe Tauern National Park Center. Liechtensteinklamm is a spectacular gorge not to be missed. In Salzburg, Mother Nature has definitely bestowed many beautiful and astonishing gifts upon us.
Enjoy lift rides and amazing scenery: The domain of skiers in winter, in summer the lifts carry you up to unique hiking areas and alpine pastures flanked by extraordinary views. Furthermore, in the Salzburg mountain world you will come across one natural playground after another, spectacular viewing platforms, themed hiking paths and much more.
And that's not all: from surf schools and boat rentals to scenic roads and Alpine slides, and so much more. Browse the Salzburger Land Card brochure and look forward to a variety-packed vacation tailored perfectly to your personal tastes.
Learn more about all the sights and attractions that await you thanks to the Salzburger Land Card!
And if that's not enough…
As if free admission to 190 attractions weren't enough, the SalzburgerLand Card comes with even more added benefits. Guests actually have a choice of two additional options open to them: either a 24-hour Salzburg Card or a free drive on the Grossglockner High-Alpine Road.
Further information and current prices can be found on the website of SalzburgerLand. You can buy your SalzburgerLand Card at the tourist office in Eugendorf or right there at your hotel. So as you can see, all it takes is your no-obligation enquiry or an online booking for a stay in Eugendorf, and literally all of Salzburg province will be rolled out before your feet. We look forward to welcoming you here in summer.
Buy SalzburgerLand Card online
Since summer 2021 the SalzburgerLand Card is available to buy online, easy and uncomplicated. You can load your card on your moblie phone for easy access. How does it work? Click on the link below (picture) and start your online purchase.